2010 Baseball Alumni Game
Join us for the Fun - May 15, 2010
Don Smargiassi is flanked by Pawnee High School alumni John Salzeider (left) and Ken Jenkins (right) at a past PHS Alumni Baseball Game. Smargiassi was honored by the baseball program and its alumni for his many years of service to the school district and the baseball program at PHS.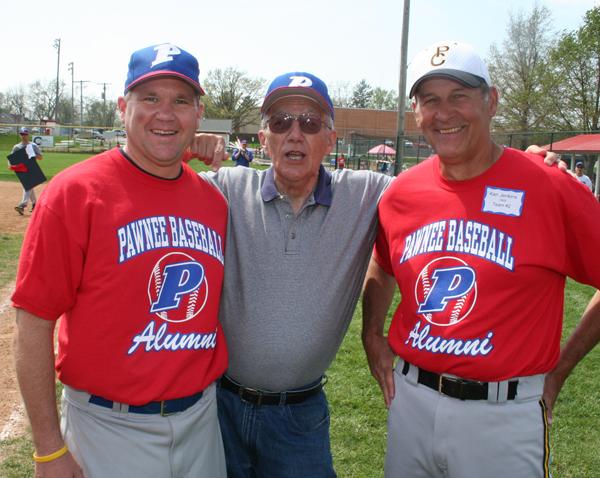 Alumni Game
Alumni social gathering and lunch at the field
following the alumni game
If you have not received your invitation,and you are an alumnus of the Pawnee Baseball Program, please call and register to participate in our Alumni Reunion Baseball Extravaganza!

If you have any questions about the Alumni Baseball Game,
call us at (217) 625-2471
or email chennemann@pawneeschools.org

Every effort has been made to contact all Pawnee Baseball Program Alumni.If you did not receive an invitation, it is because we were unable to locate you.So...even if you are not available to be a member of this year's Alumni Baseball Team, please give us a call,or send us an E-Mail with your contact information for future Reunions!